Are you annoy by your computer! feel like you are using the 90's computer, it is not necessary that you have to buy a new computer. Here are some of the useful tips that help you to speed up your computer.
You can implement some simple steps to speed up your computer within a minutes. Let's flash them out:
Speed Up your Computer
Turn on your device and give command (window + R)
Prefetch
On the prompt box after ( window + R ) and type prefetch in command box. It will open with the all temp file in your device select all the files and delete all files.
cleanmgr
Again provide command (window + R ) and type cleanmgr in prompt box.
Then click OK, Selecting of C drive because all executing file are stored in C-Drive including temp files.
Checks all option except downloads and press ok.
Speed Up your Computer
%temp%
Again type %temp% on prompt box from (Window + R ) and click OK and select all temp files and delete all the files
tree
Provide a tree command in the same process then restart the computer your computer will be fine and working better than before.
Defrag your hard disk
The more you use your hard disk, the more it can become fragmented, which can slow down your PC. When a disk gets fragmented, it stores files willy-nilly across it, and it takes a while for Windows to put them together before running them.
Windows 10, though, has a built-in defragmenter you can use to defragment your hard disk. You can even tell it to run automatically so it stays constantly defragmented.
To do it, type defrag into the search box and press Enter. From the screen that appears, select the drive you want you want to defragment. Click the Optimize button to defragment it. Select multiple disks by holding down the Ctrl key and clicking each you want to defragment.
If you want to have your disk or disks defragmented automatically, click the Change settings button, then check the box next to "Run on a schedule." Now select the frequency at which you want the disk(s) defragmented by clicking the drop-down next to Frequency and selecting Daily, Weekly or Monthly. (Weekly will be your best bet.) From this screen you can also choose multiple drives to defragment.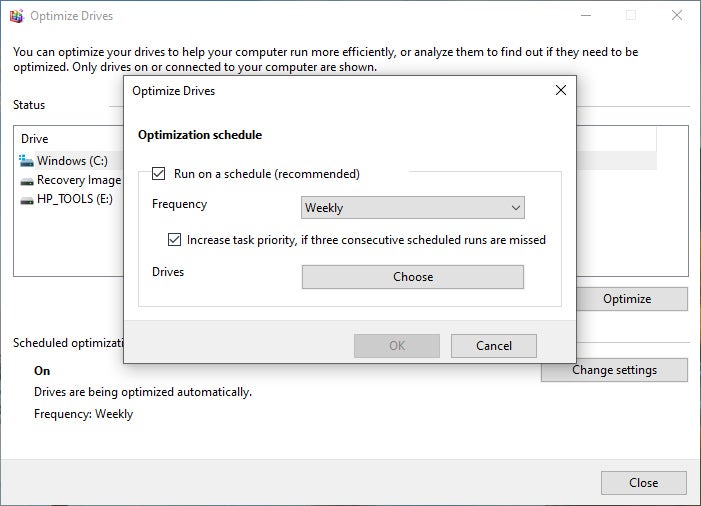 Speed Up your Computer
You can also download various applications to clean the cache and helps to make your computer faster. Here are the links provided to download such applications.
To know more about the Techolation.com.